The Altmann Attraction DAC is a complete DA converter solution with exceptional sound quality and unique features.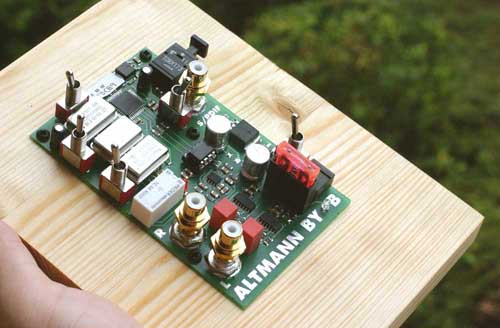 It operates on CD (44.1kHz), DAT (48kHz), DVD-A (88.2, 96, 176.4 and 192kHz) sample-rates, without the use of oversampling.
It features switchable optical and coaxial digital S/PDIF inputs.
The digital input signals are recovered with extremely low jitter as they are generated by custom made voltage-controlled crystal-oscillators (VCXOs) and employ the UPCI (Ultra Precision Clock Injection) technology.
A switchable JISCO-function (Jitter Scrambling Decorrelator) further increases sound quality as jitter-components from the DVD-A or CD player are decorrelated before being ultra-precision-filtered.
The practical outcome of this setup is a level of sound quality that is unrivalled.
Sample-rate can be selected by two toggle-swtiches.
A lock-detector mutes output by sending zero-data to the DAC plus shorting analog outputs to ground, in order to prevent pop-sounds, when invalid data is received. Lock-status is monitored by a red LED.
Digital to analog conversion is performed by a R2R converter operating on true sample-rate (no oversampling) and true sample-values. This means, that the data on the disc (input data) is converted sample-by-sample with high precision and without altering any data. No DVD-playback machine can do this.
The Altmann Attraction DAC is today's only digital playback machine, that can play high sample-rate material in true fidelity and transparency, as it plays the true data-on-disc sample-by-sample.
The high integration of unique features was achieved by the development of a special digital receiver-chip (Altmann R16).
The elaborate analog and powerful output-circuitry is similar to that of the much more expensive Altmann Superlative DA Converter and employs ten high-quality Burr-Brown operational amplifiers.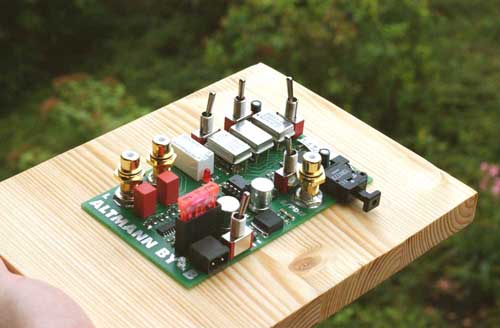 Best of 2006 Award by Enjoythemusic